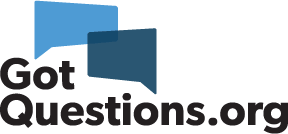 When the pandemic hit mid March 2020, we all were caught off guard. I had been brought on board on the leadership team of my church in a training mode to be raised up as an Elder. There were no books on the subject of how to run a church during a pandemic. There were no strategies on how to evangelize the lost during an uncertain time in which people did not want to be near each other for safety's sake. In every sense of the term I was frustrated. One after another my evangelism events were being cancelled, starting with the Des Moines St. Paddy's Day Parade. By June I was at wits end and was stir crazy; I needed an outlet to share the gospel.
A friend introduced me to GotQuestions.org and they were looking for writers, in which I always wanted to write professionally. It wasn't a paid gig, but really needed to get my feet wet. More importantly though, I needed a space to share the gospel and disciple anyone who would listen. I sent in my application, a few magazine articles I had written, and answered a few of their questions. By the middle of October, I was in.
Serving in this ministry has been a huge blessing. They reach millions of people with thousands each year coming to Christ. Each month I receive a status report of how we are impacting the world, and the end-of-the-year reports will blow your mind. Since then, my personal writing and answers have touched people in every continent. The questions I receive range from the simple to the extreme. Many of them are from people who are genuinely hurting and in pain emotionally and spiritually. Some are funny but many have brought me to my knees in prayer with tear-filled eyes.
Even though I really get pumped up when my notification pops up that I have received a question and I enjoy every minute answering them, but I would also agree that 90% of the questions I have received could have been answered through a neglected practice in the church — discipleship.
In Christianity, a disciple is someone who adheres and disciplines himself in the teachings of Jesus and the Bible. He or she is a follower, a learner, and a student of Jesus Christ and the Bible — God's Word, encapsulates his entire life. Therefore, discipleship is the process in which God's Word is taught and modeled from the discipler and applied to the disciple. It is also the process in which that information and model is absorbed to the student and lived out in his or her daily life. This is not simply teaching and receiving, but growing, bonding, nurturing, entrusting, and living what was taught and applied where both parties are working in unison. As the disciple entrusts himself to the teacher, the teacher entrusts the information to the student. It is not only a transfer of information, but committing and surrendering of oneself to the other and vice versa through the laboratory of transparent relationship and mutual accountability. There is an unbreakable bond and a trust that forms.
God did not command us to seek converts, but to make disciples that will make disciples.
"Go therefore and make disciples of all the nations, baptizing them in the name of the Father and of the Son and of the Holy Spirit, "teaching them to observe all things that I have commanded you; and lo, I am with you always, [even] to the end of the age." Amen.

[Matthew 28:19-20 NKJV]
Discipleship is important to the life of not only the disciple, but Christianity as a whole. It is how this thing we call faith is not only lived out, but passed on from generation to generation. It is how we are to function, grow, and strengthen each other in God's Word.
Many of the questions that I receive from GotQuestions.com could have been answered by a discipler or even someone from the questionnaire's church. With that being said, how are we doing living out the command of our Lord in Matthew 28:19-20? Where I see the failure is in both parties…the student and the teacher. Why? Because it takes both to intertwine and work together. You cannot have one without the other. They need each other.
It is only through impactful discipleship along with the Holy Spirit of course, that made me the man I am today. The day I got saved, I walked into the church an enemy of God, and walked out His child. But it wasn't until I surrendered myself to another man, who was committed to pour out all this person has learned to me, that the process really got started. I was like a racehorse out of the gate, and I wanted to learn as much as I could. But not just information, but living and applying what I was living.
Soon, my discipler and I would go out into the streets and share God's Word with the Lost. I first watched him as he shared the gospel and really paying attention. Then I would jump in to the conversation when I felt confident to. After a while, I would start conversations with strangers and ask for help from my mentor when I needed it. But the real test would be sitting in a restaurant; without warning as we were enjoying a meal, he would take a tract out of his shirt pocket, slide it over to my side of the table, and point to a person he wanted me to give it to and strike up a conversation. I have to admit, I failed some tests. But passed even more.
But these blessings were not just one-sided. I joined ministries by myself, and went on missions trips to share the gospel to Africa and Utah, without my mentor. One day, a fellow Christian who I met on an evangelism social forum invited me at the last minute to the Des Moines Downtown Farmers Market to open-air preach. The first person I called was my discipler, and I could only leave a message.
About an hour later it was my turn to get on the box and proclaim to thousands of people. I was terrified, but I needed to do it. Out of the corner of my eye, I saw my mentor and teacher. Like a proud father he was recording video and encouraging me to press through and "break the sound barrier". But, in that moment, he was more blessed than I was; he saw with his own eyes the culmination of years of hard work, effort, and especially love being poured out onto the streets of downtown. And you know what? When I got finished and after he hugged me tight, and told me how proud he was, he got on the box and preached his heart out too.
It was through this relationship, and others in the church that I learned about Mormonism, Inductive Bible Study, and acquired a love for reading. I learned how to share my faith and teach others how to as well. I got saved 19 years ago, and the relationships I have with these men are stronger than ever. I am hoping and praying to do the same with someone else; to take a younger man under my wing and teach him all that I know and live it out. We need to keep this thing going and finish well in the race that is set before us.